Key Stage 1 (Years 1 and 2)
A more formal structure is found in Key Stage One, with children developing their potential in all areas of the National Curriculum. The Key Stage One Curriculum encourages and stimulates the best possible progress and highest attainment for all children. It builds on their strengths, experiences and interests, developing their own confidence to work not only with other children but also independently. The daily routine consists of subject-orientated work, with strong focus on the core subjects of English, Mathematics and Science. Children undertake structured Literacy and Numeracy sessions throughout the week, encouraging group and independent study. Most subjects are taught by the class teacher through cross-curricular topics, embracing not only the core subjects, but also History, Geography, Physical Education, Art and Design, Information Technology, Music, Drama, PESD and Thai Studies.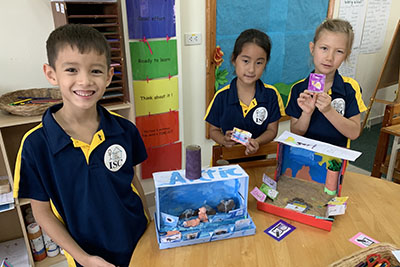 Core Subjects
Literacy
Numeracy
Science
ICT
Foundation
History
Geography
Physical Education
Art and Design
Music
Key Stage 2 (Years 3 - 6)
This stage covers Years 3 - 6 and is made up of the same core and foundation subjects found in Key Stage 1.
Years 3 and 4 – 'First Half of Key Stage 2'
Much of the work in these year groups is 'cross curricular', which means that one theme is covered by several subjects. Topics are structured to allow children the freedom to explore new subjects in a stimulating way, encouraging a natural enthusiasm for more independent learning.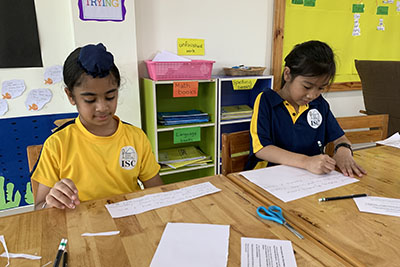 Years 5 and 6 – 'Second Half of Key Stage 2' 
In the upper part of the school, a greater degree of autonomy and independence is expected of the children. They are gently encouraged to accept new levels of responsibility and demonstrate leadership skills. Such changes become evident in work habits and organisation, behaviour and self discipline and relationships with other students and with staff.
During the latter part of Key Stage 2, subject teaching becomes more defined, especially in the core subjects of English, Maths, Science and ICT. As students enter Year 6, they are prepared for the subject-oriented approach of KS3 and are expected to become more independent in planning and completing their studies. With careful planning, homework can encourage skills and attitudes which will stand the students in good stead as they move through their academic life.