ISC welcomes students of all nationalities at anytime during the school year.
Step 1 - Contact School
We encourage you to visit our school. To schedule an appointment please ring our school office at 038-241 085 or 087-141 4448. Alternatively, you may write an email to admissions@isc.ac.th
During this visit, you will be touring our school and meeting with the staff. Your child/ren are most welcome to come along on your first visit.
Once you are completely satisfied with the school, we will move on to step 2.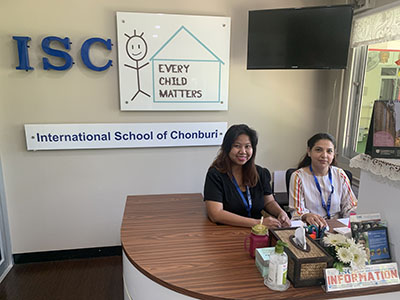 Step 2 - Documents
Complete the enrolment form (paper or electronic copy) and provide the necessary documents.
Thai nationals:
Photocopy of ID cards of parents/guardian.
Photocopy of house registration of student and parents/guardian.
Photocopy of birth certificate of student.
Two passport size photos of student.
Vaccination record
All other nationalities:
Photocopy of passport of parents/guardian.
Photocopy of work permit of working parents.
Photocopy of passport of student.
Two passport size photos of student.
Vaccination record
Step 3 - Sign Acceptance Form
Once the enrolment form has been submitted along with all other necessary documents, the school will consider accepting your child/ren. Depending upon availability, you will be receiving an Acceptance Letter from the school. An Acceptance Form will be sent along with the Acceptance Letter, which has to be signed by parents/guardians and returned to school.
Step 4 - Payment
An invoice will be issued requesting payment of following:
One time non-refundable Registration Fee.
Annual Insurance Fee.
Lunch and Transportation Fee (if applicable).
Step 5 - Orientation
If your child/ren is starting in the beginning of a school year, you will be invited to Orientation Day before the start of school. On this day, you will be meeting with your child/ren class teacher and specialist teachers. If it is a mid year enrolment, your child can start school whenever you are ready.